MADE EASY FOR YOU
How does placing an order work?

‣ 1. Select your product details above
‣ 2. Complete checkout for your draft order

‣ 3. Kindred receives your request & prepares your order

‣ 4. Within 1-2 business days we will send you a: digital mock up, detailed purchase order, invoice, delivery time frame
‣ 5. You review / approve your order details
‣ 6. Your credit card charge is confirmed

‣ 7. We make your order!

Pricing includes all shipping & printing based on the selections you've made above. Kindred handles all the shipping & customs clearance for your order.

Your items will arrive on your doorstep ready to go!
VIEW SAMPLE PURCHASE ORDER
MADE TO ORDER
Minimum order of 50 units per design
‣ Artwork size, placement, print & fabric colour needs to remain the same.

The JOYYA staff silk screen your designs by hand
‣ No hidden set up fees!
‣ Printed using eco-friendly, water-based inks.
‣ Max of 6 colors in any one location.
‣ Max of 8 colors total per garment.
‣ Artwork must be in block colours
‣ Gradient colours are not possible.

Check out the artwork guide for help preparing your high resolution design!
VIEW ARTWORK GUIDE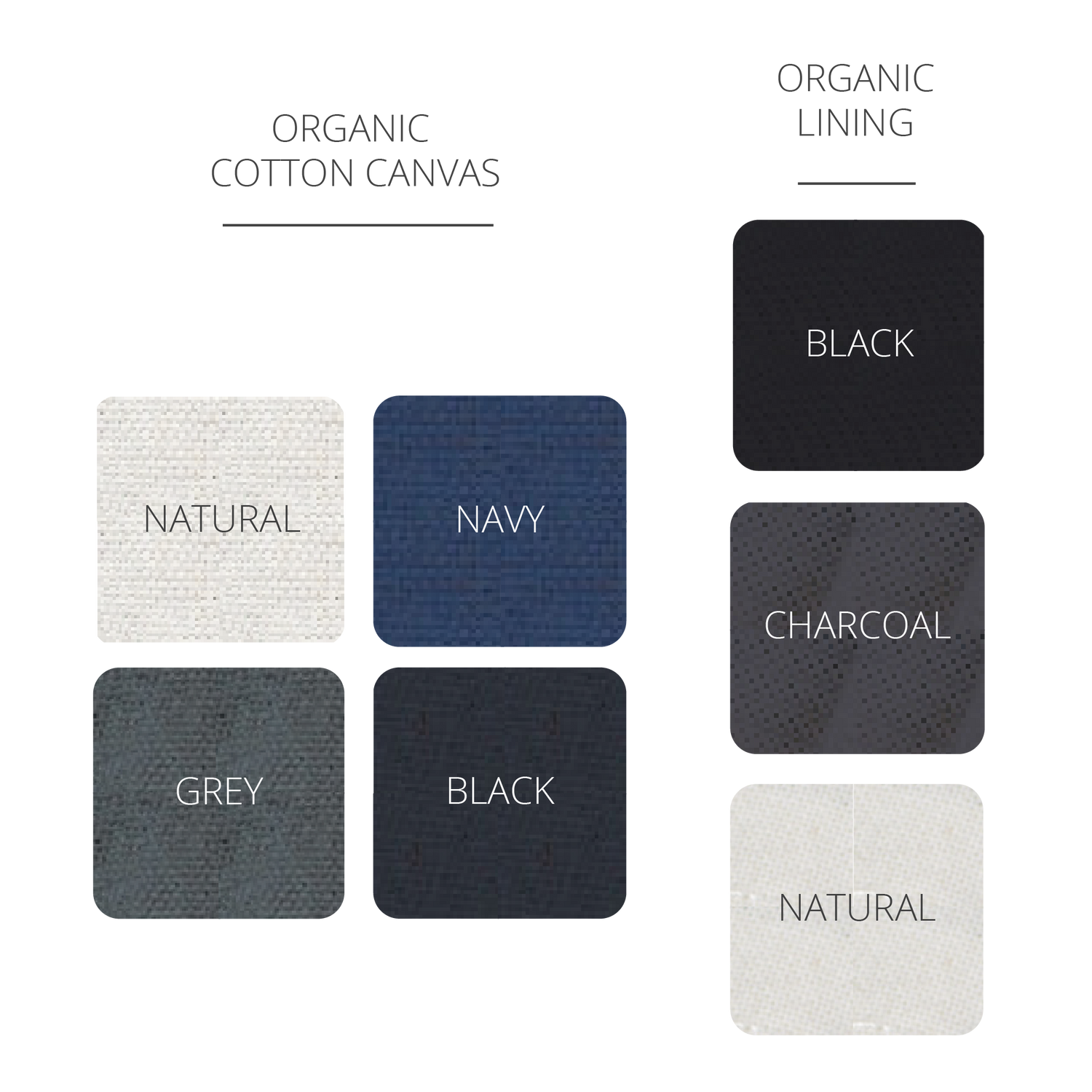 MADE TO MATCH
Apron Colours:
‣ Black, Gray, Natural or Navy

Strap Colours:
‣ Black

We make sure every detail is just right:
‣ A professional digital mock up provided
‣ Layout prepared by an experienced designer
‣ Design & product fabric colour digitally combined
‣ Size & placement of artwork outlined
‣ Up to 3 mock up revisions free of charge.
VIEW SAMPLE MOCK UP
MADE TO FIT
Dimensions: 6"H x 9"W
About the wristbands:

Hard wearing 3mm FSC certified laminated Bamboo tab100% cotton cordOne size fits allAdjustable strap - plastic bead Fair trade manufactured Laser engraved custom graphicsMinimum order quantity: 300 units*TABCORD
We can dye your cord to match your brand palette. *MOQ for custom dyed cord (need link to MOQ info)
ENGRAVING
We can engrave your logo, or whatever you want to say, to a high level of detail and always provide digital proofs.
For best results in logo engraving, AI or PDF files with fonts converted to outlines are preferred.  Don't be fazed by complicated format requirements, if you need help with this, let us know! (need link)

Joyya label and swing tag standard on every product
Customize dimensions + dyed Pantone fabric colors available with MOQ

VIEW SPEC SHEET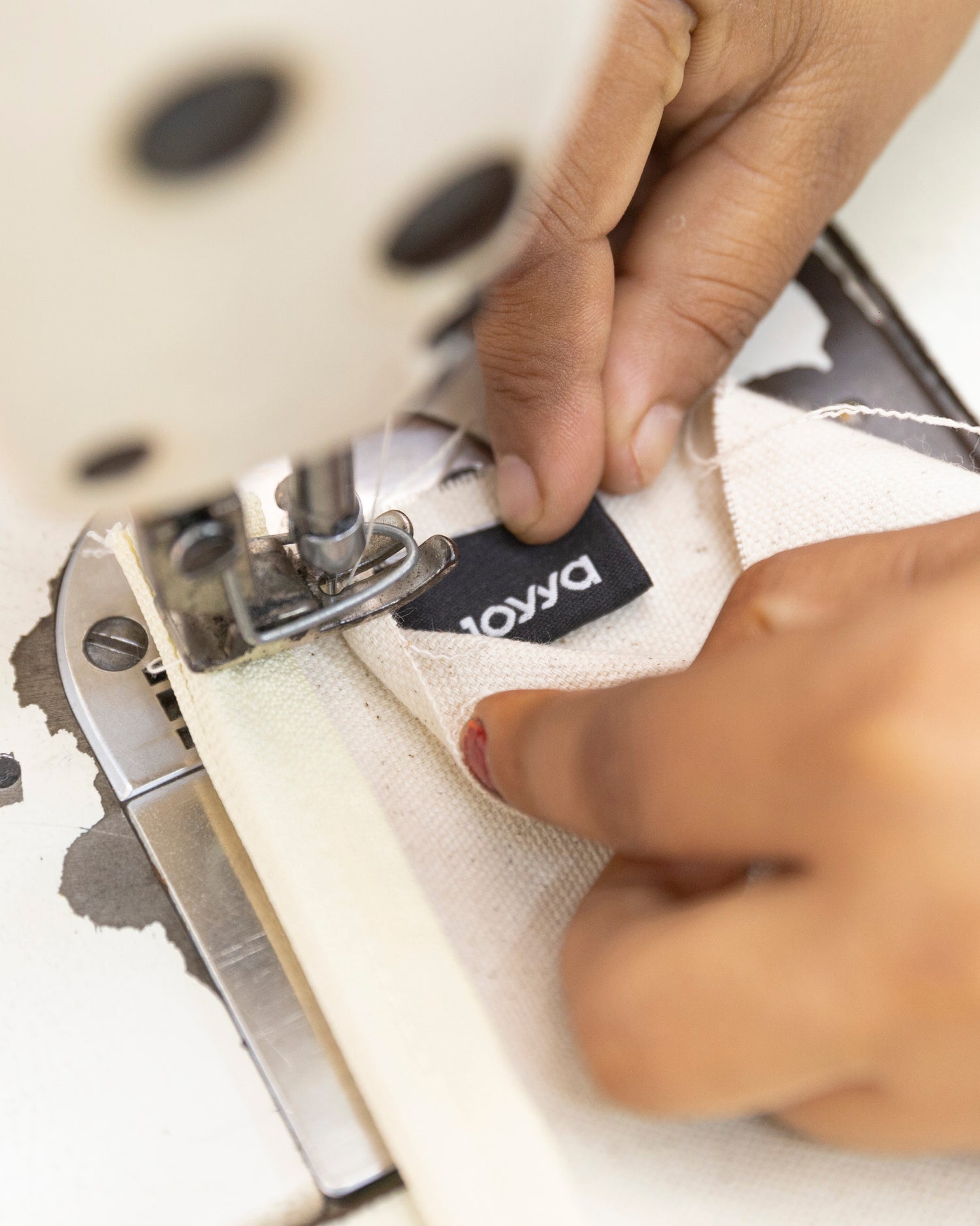 MADE WITH LOVE
A custom cut and laser engraved wristband to promote your brand, promote or retail with inspirational or encouraging words, or to identify group and individual access easily.  Made of sustainable, eco-friendly bamboo with 3 shapes to choose from.  Cording is organic cotton and available in your choice of 6 colors. Adjustable fit with a choice of adjuster.  Available with a locking bead to secure the wristband if needed to identify individual access such as swimming ability or legal age.  Joyya goods do good for the people who make it and the world.  Buy Good, Do Good.​

Made With Care In Kolkata
Our products are sewn with pride. You can know for certain they are eco-friendly and make a difference in the lives of everyone who helped create them, from the first cotton bud to very last stitch. We're especially proud every product is WFTO Fair Trade guaranteed.

Beyond Fair Trade
Ethically Sourced
Handcrafted for Good

OUR PRODUCT'S JOURNEY TO YOU
THE RIGHT FIT, IS MORE THAN JUST A SIZE
Love what you see, but you want need more complex options than what our website allows? Check out our advanced options then email us for more info.